Fundraising
JOIN US AT OUR FOURTH ANNUAL
ARC OF BURLINGTON COUNTY GOLF CLASSIC

Calling all pros and wannabes alike! Join us for a fun-filled day of championship golf, unbelievably delicious food, contests (including a "million dollar shootout"), exciting player gifts, raffles, awards and prizes at our Third Annual Arc of Burlington County Golf Classic at beautiful Riverton Country Club, 1416 Highland Avenue, Riverton, NJ, on Monday, October 3rd2016.  (Rain Date will be Tuesday, October 11th.)

Festivities begin at 10:00 a.m., with registration and a sumptuous all-you-can-eat brunch until 11:30. Then we start to play, shotgun style, with contests and snacks and beverages on the course throughout the day. From 4:30 – 6:00, we'll have drinks, prizes, awards and more fabulous food back at the clubhouse.
The cost per golfer is $175.00 if you just want to play and not be a sponsor, but if you'd like a little more bang for your buck and choose to sponsor, here are the options:
CORPORATE GOLD – $5,000 – Sponsor receives one foursome, prominent listing on sponsor board, cocktail reception sponsor, tee box signage and players gift bags.
CORPORATE SILVER – $2,500 – Sponsor receives one foursome, listing on sponsor board, hole-in-one sponsor, longest drive sponsor, closest-to-pin sponsor, tee box signage and players gift bags.
EAGLE – $1,500 – Sponsor receives one foursome, listing on sponsor board, tee box signage and players gift bags.
BIRDIE – $750 – Sponsor receives one twosome, listing on sponsor board, tee box signage and players gift bags.
INDIVIDUAL PLAYER – $175 – Individual player receives players gift bag.
ADDITIONAL SPONSORSHIPS

BRUNCH – $2,000
COCKTAILS/HORS D'OEUVRES – $1,500                        

HOLE-IN-ONE MILLION DOLLAR  SHOOTOUT – $750
BEVERAGE SPONSOR – $500
PRACTICE TEE – $500
PUTTING CONTEST – $350
TEE BOX SIGNAGE – $250
So, decide what level you want to sponsor (or choose INDIVIDUAL GOLFER if you just want to play a round of golf and not sponsor anything), then donate online by clicking our MAKE A DONATION button at the top of this page to pay by credit card or PayPal. Once you've filled in your information, you'll have the opportunity in the message box to tell us your preferences and list all the golfers in your group.
Prefer to pay by check? You can send yours to The Arc of Burlington County, 115 E. Broad Street, Burlington, NJ 08016 and note 2016 Golf Classic on the memo line.  Just be sure to let us know the names of all players in your group. 
In the meantime, clean off your cleats, press your plaid "plus fours" (if you dare), adjust your visor, and get ready to tee-off for a great cause! FORE!
All proceeds from this event benefit The Arc of Burlington County, a non-profit organization that helps people with developmental disabilities and their families throughout Burlington County.
                                                                          

Thank you especially to the Wegmans organization for being our primary Step Up For The Arc Walk sponsor for the past several years. They have been generous supporters to The Arc of Burlington County and our many programs, and we cannot thank them enough for their kindness and generosity. 
 

*   *   *   *   *   *

  *   *   *   *   *   *   *   *   *   *
Money raised from fundraising events goes to sponsor a variety of recreational and social events that are open to all children and adults with a developmental disability throughout Burlington County. Most individuals with disabilities have difficulty accessing community resources that the rest of us take for granted, such as going out to dinner, seeing a movie, or socializing with friends and neighbors. The Arc of Burlington County is committed to ensuring that everyone in our community has the opportunity to take part in a wide array of social and recreational activities that help to build self-esteem, enable new friendships, encourage participants to become active members of their communities and, ultimately, help them live healthier and happier lives. In addition to that, we also provide help to people with and without disabilities who are living on their own in the community that may experience a sudden emergency. For example, last winter we arranged for delivery of firewood to an elderly couple who found themselves temporarily unable to purchase firewood for their home's only source of heat, a wood-burning stove. Another young man had no money left after paying his bills to get a winter coat. Others may at times find themselves short of food. Money raised from our events stays in the community and directly benefits our neighbors.
Our two major annual fundraising events are the Annual Step Up For The Arc Walkathon in May, and our Annual Golf Classic held in October.
---
The Arc relies on its many generous donors to help fund our events, programs and resources for children and adults with special needs. To all of you who have given so generously, we thank you!

---
The Arc of Burlington County's Recreation Department offers a variety of interesting events for adults with developmental disabilities: monthly dances, evenings out for dinner, day trips to special events and shows, seasonal trips to New York and other exciting locations, picnics, barbecues, and lots more. But because our funding is very limited, we rely heavily on the wonderful organizations and folks who sponsor many of our events by providing refreshments, gifts, volunteer staffers, monetary donations, and the support all of our men and women enjoy.
Edgewater Park Women's Club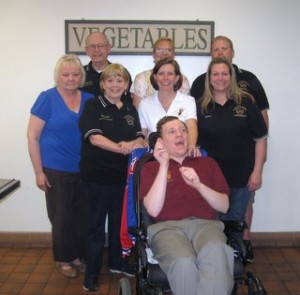 What would Halloween be without our annual Halloween Dance sponsored for so many years by the busy members of the Edgewater Park Women's Club? Our dancing ghosts and witches love the evening not only for the fun but also for the wonderful refreshments these ladies so generously provide as well. And they don't stop at Halloween; they start off each year by sponsoring our April Seventies get-togethers, too. Thanks for all you do!
Our annual Semi-formal Dance in May, as well as our summer barbecue and pool party in Hainesport, has long been possible because of the generosity and dedicated efforts of the Mt. Holly Elks #848 Special Children's Committee. They serve refreshments, provide food and chefs for our barbecue and, in general, help make both events special. We think the Elks enjoy themselves as much as the men and women in our programs do, and for that, we're grateful.
---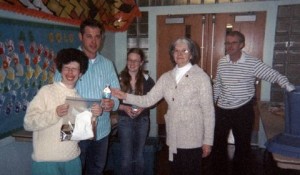 The local Soroptimists International group sponsors our St. Patrick's Day dance, a December Dance and volunteers.
Our Christmas dance is always fun. The Home Depot store paid for hot dogs, chips and juice, and Santa (Nick Blassman) was his usual, jovial self. Special thanks needs to go to UFCW Local 152, without whose help we wouldn't have had such a good time. They gave each participant a new stuffed animal and served the refreshments.
---
The Willingboro Knights of Columbus Sacred Heart Council regularly sponsor our November and January dances, and we thank all who work so hard to make the event enjoyable for everyone who comes out.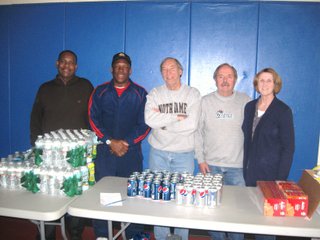 ---
They're a generous bunch, serving pizza and other snacks to our hungry dancers and branching out lately to Movie Afternoons for some of our group home ladies, as well, who get treated not only to a great movie but also lots of TLC, makeup sessions and manicures. Without the help of the Hainesport Fire Company and Auxiliary, our yearly dance schedule wouldn't run as smoothly or be as much fun.
---
Our Annual Casino Night and Dance has been sponsored each February for the past gazillion years by the Interact Club of Cinnaminson High School. The students continually amaze us with their organization and dedication, and this year was no exception. They came up with new ideas for "games of chance" that our men and women participate in and win tickets for, then cash in for prizes from the hundreds of donations the students solicited throughout the year. This year, there was also a "tattoo parlor," balloon hat, animal table and bowling alley to go along with the refreshments and dancing. Thanks to everyone who helps make this one of our most popular events.
How we spend our dollars