Fundraising
WILL YOU HELP?
It's time for The Arc of Burlington County's 20th Annual STEP UP FOR THE ARC WALK 2021 but because COVID-19 is still here and we want everyone to stay safe, we won't be getting together on May 16th, so once again…
WE'RE HOLDING A VIRTUAL WALK—
AND NOBODY HAS TO SHOW UP!
What'll be different?
No need to attend. (You can walk at home … or not!)

No "social distancing" worries.

No weather concerns. (Rain? So?)

No gaining weight from our fabulous buffet lunch.

No tee shirt to wash afterward.
BUT WE STILL NEED YOUR HELP MORE THAN EVER NOW

to raise funds for Arc services for people with developmental disabilities — and we hope we can count on you.
 HERE'S HOW
For your contribution of $2,500 or more: Your name or company name will be listed as a gold sponsor in any publicity on Facebook and on our website.
 For your contribution of $1,000 or more: Your name or company name will be listed as a silver sponsor in any publicity on Facebook and on our website.
For your contribution of $500 or more: Your name or company name will be listed as a bronze sponsor in any publicity on Facebook and on our website.
For your contribution of $250 or more: Your name or company name will be listed as a major contributor on our website.
For your contribution of $25 or more: You'll be listed on our website as a contributor.
­­__ __ __ __ __ __ __ __ __ __ __ __ __ __ __ __ __ __ __ __ __ __ __ __ __ __ __ __ __ __ __ __ __ __ __ __ _
DONATION FORM
Individual/Company name__________________________________________Today's date ____________
Email address ______________________________________________________________________________
Mailing address ___________________________________________________________________________
Contact person­­­­­­­­­­­­­­­­­­­__________________________________________________ Phone # ___________________
Because things are still different this year, I/we'd like to donate to Step Up For The Arc Walk 2021 to help The Arc of Burlington County continue improving services for individuals with developmental disabilities and their families during these difficult times.  
Please accept my donation of ________________________________.
__ __ __ __ __ __ __ __ __ __ __ __ __ __ __ __ __ __ __ __ __ __ __ __ __ __ __ __ __ __ __ __ __ __ __ __ __
Please return this form along with your donation to the address below. 
            The Arc of Burlington County

            115 E. Broad Street
             Burlington, NJ 08016
            ATTN: Arlene Miller

      

(Make checks payable to The Arc of Burlington County

& write "Walk 2021" on the memo line OR click on the MAKE A DONATION button on our home page to pay by credit card or PayPal.)
AS ALWAYS, THANK YOU
FOR YOUR SUPPORT!
______________________________________________________________________________________________________________
IN THE MEANTIME, WE ALWAYS APPRECIATE DONATIONS TO THE ARC, ALL OF WHICH GO TOWARD HELPING
US IMPROVE THE MANY

SERVICES AND

PROGRAMS WE OFFER FOR MEN AND WOMEN WITH INTELLECTUAL AND OTHER DEVELOPMENTAL

DISABILITIES THROUGHOUT BURLINGTON COUNTY. 

YOU CAN LEARN MORE ABOUT THESE ON OUR



RESOURCES LINK UNDER SERVICES OR CLICK ON THE

INDIVIDUAL LISTINGS YOU'LL FIND THROUGHOUT THE WEBSITE.



AS ALWAYS, WE'RE GRATEFUL FOR ALL THE SUPPORT YOU'VE SHOWN US OVER THE YEARS.


 

*   *   *   *   *   *

  *   *   *   *   *   *   *   *
Money raised from fundraising events helps us improve and expand programs and services we offer as well as sponsor a variety of recreational and social events open to adults with a developmental disability throughout Burlington County. In addition, we also provide help to people with and without disabilities living on their own in the community who may experience a sudden emergency or who need help with day to day living expenses their budgets may not accommodate.   Money raised from our events stays in the community and directly benefits the men and women we serve.
Our two major annual fundraising events are the Annual Step Up For The Arc Walkathon in May, and our Annual Golf Classic held in October. Please check our Fundraising Page or call us at 856-764-9494 for more information on how you can support these two events. As always, we thanks you for your support. 

The Arc relies on its many wonderful donors to help fund our events, programs and resources for children and adults with special needs. To all of you who have given so generously, we thank you!

---
The Arc of Burlington County's Recreation Department offers a variety of interesting events for adults with developmental disabilities: monthly dances, evenings out for dinner, day trips to special events and shows, seasonal trips to New York and other exciting locations, picnics, barbecues, and lots more. But because our funding is very limited, we rely heavily on the wonderful organizations and folks who sponsor many of our events by providing refreshments, gifts, volunteer staffers, monetary donations, and the support all of our men and women enjoy.
Edgewater Park Women's Club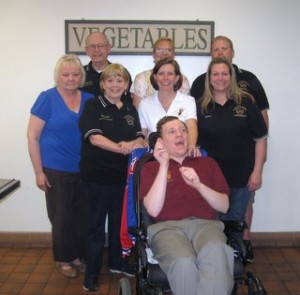 What would Halloween be without our annual Halloween Dance sponsored for so many years by the busy members of the Edgewater Park Women's Club? Our dancing ghosts and witches love the evening not only for the fun but also for the wonderful refreshments these ladies so generously provide as well. And they don't stop at Halloween; they start off each year by sponsoring our April Seventies get-togethers, too. Thanks for all you do!
Our annual Semi-formal Dance in May, as well as our summer barbecue and pool party in Hainesport, have long been possible because of the generosity and dedicated efforts of the Mt. Holly Elks #848 Special Children's Committee. They serve refreshments, provide food and chefs for our barbecue and, in general, help make both events special. We think the Elks enjoy themselves as much as the men and women in our programs do, and for that, we're grateful.
---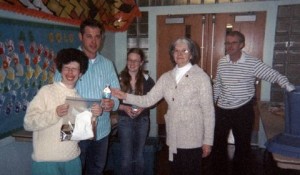 The local Soroptimists International group sponsors our St. Patrick's Day dance, a December dance and volunteers.
Our Christmas dance is always fun. The Home Depot store employees supply hot dogs, chips and juice, and Santa (Nick Blassman) is always his usual, jovial self. Special thanks needs to go to UFCW Local 152, without whose help we wouldn't have such a good time.

---
The Willingboro Knights of Columbus Sacred Heart Council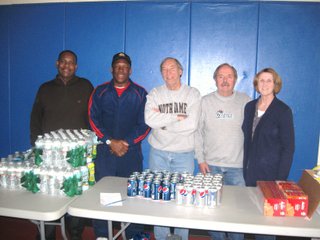 regularly sponsors our November and January dances, and we thank all who work so hard to make the event enjoyable for everyone who comes out.
---
They're a generous bunch, serving pizza and other snacks to our hungry dancers. In the past, they're held "Movie Afternoons" for some of our group home ladies, as well, who were treated not only to a great movie but also lots of TLC, makeup sessions and manicures. Without the help of the Hainesport Fire Company and Auxiliary, our yearly dance schedule wouldn't run as smoothly or be as much fun.
---
Our Annual Casino Night and Dance has been sponsored each February for the past gazillion years by the Interact Club of Cinnaminson High School. The students continually amaze us with their organization and dedication, and each year seems better than the last!  Interact members continually come up with new ideas for "games of chance" that our men and women participate in and win tickets for, then cash in for prizes from the hundreds of donations the students solicit throughout the year. Lat year's "tattoo parlor," balloon hat, animal table and bowling alley were big hits along with the refreshments and dancing. Thanks to everyone who helps make this one of our most popular events.